Environmental Commision
Amphibians Crossing!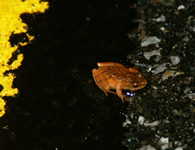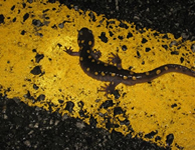 When the first early spring rains come, thousands of salamanders, frogs, and toads will emerge from their winter slumber. They'll make short, stealthy migrations through the forest to breed and lay their eggs in vernal pools.
In many places across New Jersey, roads now stand in their way. A single vehicle can crush dozens of these slow-moving animals as they try to cross the road during migration. High enough traffic volumes can wipe out entire populations over time.
Liberty Township has a number of these amphibian crossings, including a significant one on Hope Road (County Route 611). During at least one rainy evening from late February through March, a team of local volunteers will be out on Hope Road to slow traffic, move amphibians across the road, and collect data about the migration. Reflective signs and flashing lights will help to warn oncoming motorists of surveyors on the road.
If you happen to pass by on one of these rainy nights, please help to keep everyone safe by slowing down and watching carefully for frogs and salamanders on the road. These are sensitive nights for amphibians, so avoid driving if you don't have to!
You can learn more about amphibian migrations and this effort at
http://www.conservewildlifenj.org/protecting/projects/amphibian_crossing/